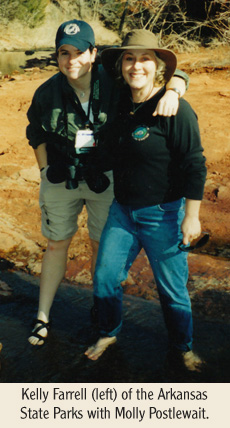 Born in Texas, raised in the Missouri Ozarks, Molly lives with her family at Top of the Morning Farm near Belton, Missouri. Molly is a Park Naturalist for the Ernie Miller Nature Center in Olathe, Kansas.
"I have always loved family stories and grew up putting on plays with my sister and brother. I have fond childhood memories of playing along the bluffs of the Gasconade River and exploring the Ozarks. I have always had a passion for caves."
Molly is a certified challenge course facilitator and wild cave trip leader. She leads Women's Wellness workshops and yoga classes. She is also a frequent host of the radio show "Every Woman" on KKFI 90.1 community radio.
Performance Highlights
Harriet Tubman Day, 2009
Women's History Celebration, 2009
International School, Frankfurt, Germany, 2009
Breaking the
Silence Conference, 2009
Haunted Wornall, 2008
Missouri Department of Conservation Prairie Days,
2008
EarthFest, annually 2005-2008
North Kansas City School District, 2008
Rotary Read Around the Square, Ozark, Missouri, 2008
Unity Church of Overland Park Kansas, 2007
Missouri
Mothers of Twins State Conference, 2007
Cass County Living History
School Days, annually 2004-2007
Interpretive Site Coalition, 2006
Westport Historical Society, Featured Presenter, 2002
National Interpreters Conference, Des Moines, Iowa, 2001
MO-Tell Spring Workshop, Fulton, Missouri, 2001
Cass County Living History Festival, Featured Presenter, 2001
National Interpreters Conference, Tucson, Arizona, 2000
Arkansas State Storytelling Festival, Featured Teller, 1999